The Darren Lajaunie Tennis Scholarship Fund (DLTSF) was set up after the passing of Darren Lajaunie in May 2011, from cancer, by his wife Camille and son, Andrew.  Darren was an avid tennis player his whole life.  He began playing at J. Frank Dobie High School, on the club level at the University of Texas, in Austin, and in many adult league tournaments until his passing in 2011. The DLTSF will continue to award college scholarships to the seniors on the J. Frank Dobie High School Tennis Team, in addition to awarding tennis camp and college scholarships to members of the Harry Taylor Tennis Center, in Pasadena, Texas.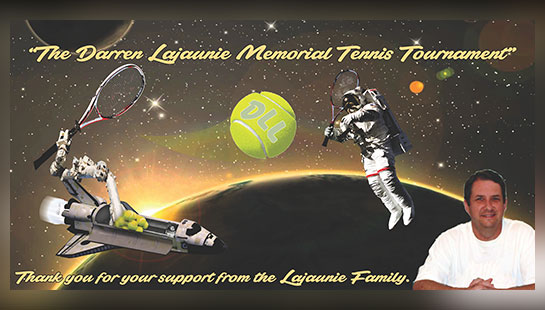 Houston's CW Channel 39 Hannah Trippett's Interview with Camille Lajaunie from 5/21/2019.
Kroger Card Enrollment Time
Get Your Grocery Shopping Done 
and
Support the Scholarship Fund at the Same TIME!!!!!
The Darren Lajaunie Tennis Scholarship Fund is a proud Community Partner with Kroger. If you have a Kroger card, you can help donate to the scholarship fund simply by shopping at Kroger. Enrollment is now underway with the Kroger Community Rewards Program.  Please enroll today and help donate to the scholarship fund. Kroger donates 1% of your grocery bill every time you shop. The scholarship fund receives 4 checks a year. Last year we received about $300 from Kroger. Kroger is not just in Texas, so if you have friends in other states please pass the information along. It's a great way to help donate. Every little bit helps! Thank you to all who have enrolled.
Donate to the Scholarship Fund Directly
Please consider becoming a tournament sponsor!
We would not be able to bring this wonderful event to Houston and Pasadena without the help of our generous sponsors and donors. This scholarship program benefits junior tennis players and honors Darren's memory.
Please send check or money order to:
Darren Lajaunie Tennis Scholarship Fund
3106 Mossy Elm Court
Houston, TX  77059